Secular Carmelite Meetings for 2019
Our meetings are held on the second floor of the Carmelite Monastery, just above the Chapel. Formation is held at 4:00 pm and the general meetings at 5:00 pm. The following list consists of meeting dates for 2019. All meetings take place on the last Sunday of each month, except December. (See the Upcoming Events Page for further information.)
Jan. 27 Feb. 24 Mar. 31 April 28 May 26 June 30
July 28 Aug. 25 Sept. 29 Oct. 27 Nov. 24
Bake Sales Supporting Carmelite Missions
This bake sale supported the Carmelite Missions in Rwanda/Burundi. The photo below shows the well in Rwanda that was created due to support from the Munster Fathers and Seculars, as well as from well-wishers all over the world.
Bake sale charity: Drilling for water at the well in Rwanda
Marty and John at the Men's Conference at St. Patrick's in Chesterton
Candidates begin the process of becoming Carmelites through the reception of the Scapular, the First Promises, and finally, the Definitive Promises. After Definitive Promises, Secular Carmelites may make Vows. Here Father Father Bill, OCDS, from the Peoria Diocese in Illinois, continues his spiritual journey with the optional step of making his Vows before Father Jacek, OCD.
Every year on Corpus Christi Sunday, our Secular Carmelite Community joins other organizations in decorating an altar on the monastery grounds.
Phil and Marty do the grilling while other members relax together on a summer's day in June (see in picture gallery below).
Father Bill, OCDS, of the Diocese of Peoria, Illinois, renews his vows in the Carmelite monastery church.
Each month, a different member takes the statue of Our Lady of Mount Carmel home.
Father Paul, OCD, shows the water that may now be used at the Carmelite mission in Rwanda, thanks to benefactors.
Preparing for the Christmas Gathering
Ghanem sweeps, scrubs, and plays Santa in preparation for the Christmas Gathering.
Secular Carmelite Retreat August 22, 2019
Father Bronisław Socha, OCD, was our retreat master.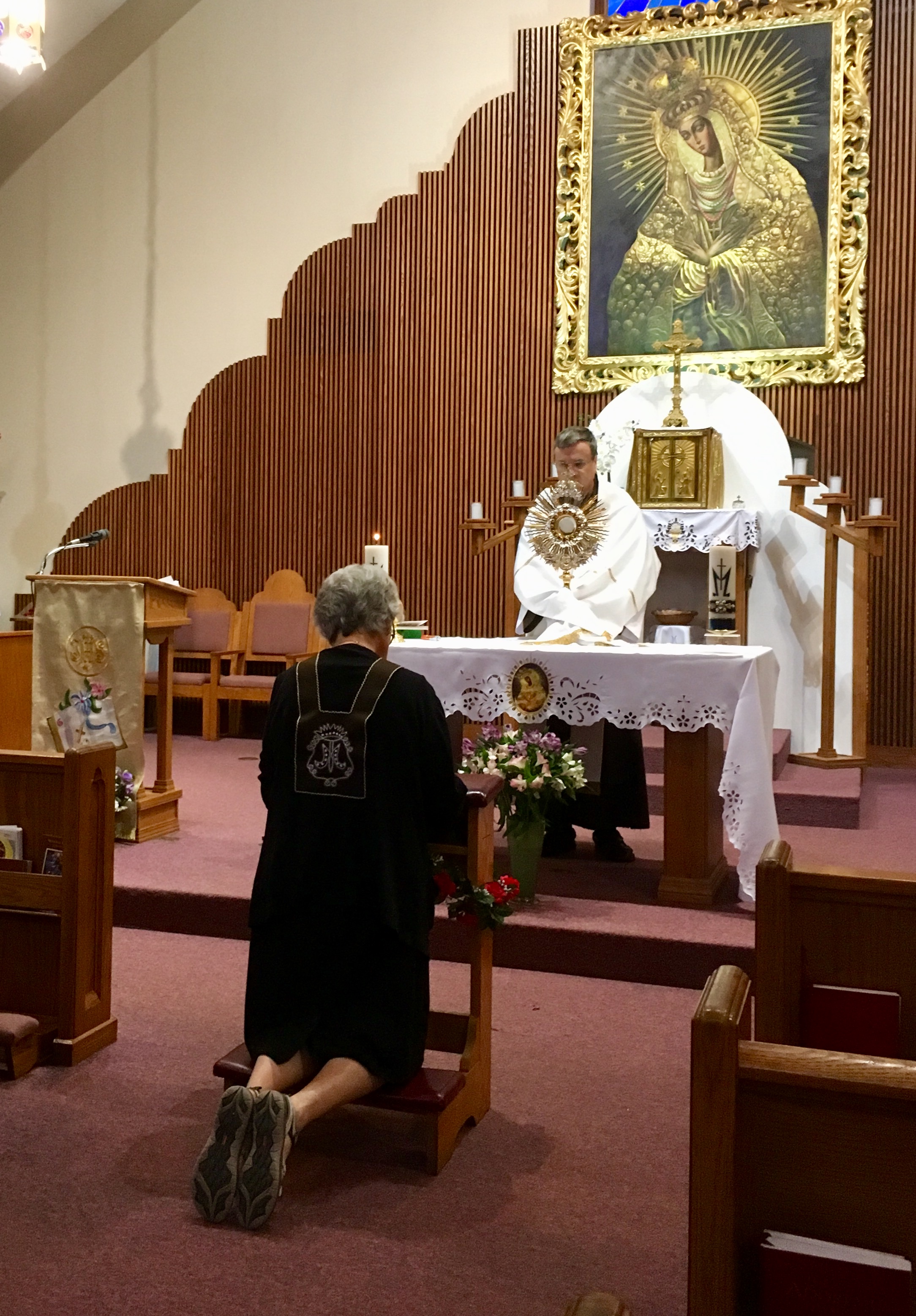 Father Paul gives Sharon a special blessing before her pilgrimage on the Camino in Spain.
Taking hygiene items to the Carmelite Home
Monthly collections for the St. Joseph Carmelite Home by Ghanem and Mary
Lunch at the Carmelite Home